Beauty and Intimacy Week with Dr. Stanley Okoro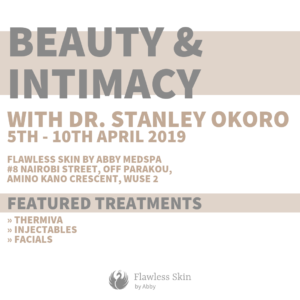 Events – Beauty and Intimacy Week with Dr Stanley Okoro
Come the 5th of April to the 10th of April 2019, our Medical Director,  Dr Stanley Okoro will be at Flawless Aesthetic Center to attend to all patients and responds to all questions.
The beauty and intimacy week will feature treatments like ThermIva, Injectables and Facials.
Dr Stanley Okoro is an internationally renowned double-board certified plastic surgeon; with extensive experience in facial rejuvenation, body contouring and vaginal rejuvenation.
For more information and to book an appointment to meet with him, do contact us or visit Flawless Aesthetic Center at 8 Nairobi street off Parakou crescent, Wuse 2, Abuja.
We cannot wait to see you!