Injectables, Peels and Body Contouring Event with Dr Stanley Okoro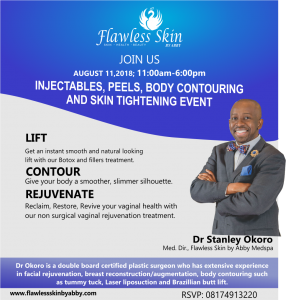 Come the 11th of August 2018, our Medical Director, Dr Stanley Okoro will spend all day at the skin clinic for the Injectables, Peels and Body contouring event. This event is free and open for all.
Dr Okoro is an internationally renowned, double-board certified plastic surgeon; with extensive experience in facial rejuvenation, breast reconstruction/augmentation and body contouring.
According to Abuja Clinic,
"Dr Okoro has extensive experience and special interest in Facial rejuvenation, breast reconstruction, breast augmentation, complicated breast surgery, body contouring such as tummy tuck, (Abdominoplasty), Laser Liposuction, and Brazilian buttock lift.

His Navy experience gives him an edge in facial, body contouring & reconstruction. He is a well rounded plastic surgeon with a world of experience. He was recently voted the 2011, 2012, & 2013 "Compassionate Doctor Award" by Patient Choice and he was listed in the "Guide to America's Top Surgeon" 2011, 2012, 2013 edition by the Consumer's Research Council of America.

Dr Okoro is also listed as one of America's Top Surgeons in 2014, and has achieved RealSelf Top Doctor status."
The treatments that will be done include Botox, Fillers, facial rejuvenation, stretch marks and cellulite treatment, body contouring such as tummy tuck, laser liposuction and Brazilian butt lift.
To make reservation for this event, call 08174913220, 08183201854.
[button title="Reserve Now" link="http://www.secure-booker.com/flawlessskinbyabby/MakeAppointment/Search.aspx" color="theme" large="1″]